Trends in social media usage are constantly changing. In fact, they probably change just as often as Google's search algorithm does! With all the pieces of the SEO puzzle always shifting, its no surprise that a lot of us feel overwhelmed when trying to claw our way to the top of the search results. But when it comes to social media, things don't have to be as complicated as so many SEOs make them out to be. Does social media influence your SEO? It depends. Not on external factors, but on your business and your customers. Some businesses do quite well for themselves with just a stellar website, while others find social media worth the effort. In this post, we'll explore what you should consider when trying to decide whether or not you should invest in social media for your business.
Estimated reading time: 6 minutes
Social media and SEO
As we make our way through the second half of 2021, the connection between social media and SEO still remains vague, at best. Just a quick search on Google will give you seven different articles, each one with a different opinion. All SEOs understand that the pages on social media platforms like Facebook and Twitter can be crawled by Google and Bing's spiders. However, we still don't know how much (if at all) these pages impact rankings; nor is there any evidence that follows, likes, or shares affect SEO at all.
While social media usage may not be directly correlated with SEO, it can help you in other ways, like:
Increasing online visibility
Boosting authority and brand recognition
Improving content performance and distribution
Increasing traffic to your website
Helping you understand your audience and improve your content
So having a social media presence is beneficial, but not having one does not have to be a death sentence. Depending on the type of business you own, your approach to and the importance of social media will be different. You need to think critically about your business and understand your industry, your competition, your audience, and your content, if you hope to make the best strategic decisions when it comes to social media. Should you use it, or not? It all depends on your unique situation.


Understand your industry and competition
Social media affects different industries differently. For example, Instagram is a great platform for image-centered businesses, like restaurants and bakeries, while LinkedIn is a much better fit for lawyers and software companies. Some industries have very little (if any) social media presence at all.
After understanding which platforms are popular in your industry, take things a step further and look at the social media your competitors have. If you search for a brand on Google (incognito, or via VPN, of course), the search engine usually puts together a Knowledge Panel about the business. This panel often includes links to their website, directions on Google maps, a call to action, ratings and reviews, business hours, popular times, and social media profiles.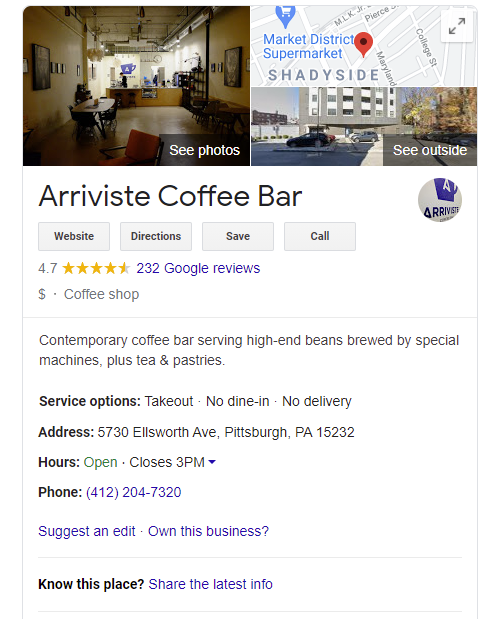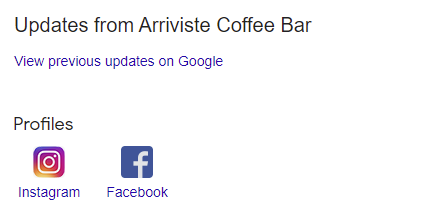 We recommend doing this for all your main competitors. If you don't see any social profiles in the Knowledge Panel, your next best bet is to check their website directly. Then, actually go to those profiles and take a look at their activity level. Are they posting once a day, once a week, once a month? Whatever they're doing, can you do it better?
Once you have a list of prospective platforms to pursue, the next step is to consider your audience and your content.


Understand your audience and content
Ultimately, whether or not you use social media depends on your ideal audience. Who are you hoping to reach, and which social media platforms do they frequent? Are they online much at all? Take your time analyzing your audience and getting to know them, otherwise you might find yourself talking to the wrong people – or worse, to no one at all!
In addition to your audience, you also have to take into account the kind of content you want to create and share on your social media. Aside from serving as a convenient alternative for your customers to engage with you online, the purpose of these channels is to help bring traffic to your website. In order for you to accomplish that, you'll need great content that not only appeals both to your audience and to Google, but also fits the social media platforms your industry, competitors, and audience use.


Choosing your social media platform(s)
After analyzing your industry, competition, audience, and content, you should have four decent lists of few social media platforms that might work well for your business. Take a look at those lists and look for the social networks they share in common. Do you notice your competitors and target audience both have a strong presence on Instagram? Then you should strongly consider doing the same!
When choosing social media, keep in mind that it is better to have one or two amazing, active profiles than to have ten with little to no activity at all. Whichever networks you choose, really make sure you can devote the resources and the time to make your profiles shine.
Read More: 7 Ways To Level Up Your Social Media Strategy


Does being active on social media mean higher rankings?
Unfortunately, no. Google does not get good visibility into what's happening on sites like Twitter and LinkedIn. In other words, Google doesn't know how active you are, and thus cannot "reward" or "punish" certain profiles. However, the links you attach to those profiles (to your website and other social media) help Google connect the dots and understand your brand.
In the future, Google might decide to weigh social media activity more heavily in its algorithms. But for now, social media does not directly boost any SEO rankings. For now, if it works for your business, we simply recommend using it to engage your customers with great content, increase brand awareness, and create brand ambassadors.


Content is still king!
The linchpin in any successful SEO strategy is killer content. Google rewards websites that are the best possible result for searchers. That means creating high-quality, valuable, easy-to-understand content for your customers goes hand in hand with ranking in the search results. If you invest the majority of your time on your site's content and making it the best possible result, Google may reward you handsomely for your efforts!
Keep Reading: Writing Great Cornerstone Content That Ranks


So what should I do?
Ultimately, that's up to you! You have to make the best decision for your business, based on your industry, audience, and competition. Social media won't directly impact your SEO and your rankings in the search results. However, it can boost your site's domain authority, potentially increase backlinks, and influence other things that actually do directly affect your SEO.
Think of social media as a way to extend your reach across the web, a part of a broader digital marketing campaign. Focus instead on creating amazing content that answers your audience's questions, content that people want to share with others. Then share it on your social media channels to get more eyes on that content and signal to Google that your site is, indeed, the best result out there.


Keep Reading: How Social Media Can Help Your Small Business