Ten years ago, Instagram was nothing more than "Facebook for teenagers". Since then, it has grown into a behemoth, easily competing with the big boys, like Facebook and Twitter. Instagram is a great social media platform that can help small businesses build relationships with current and future customers. In this post, we'll give you a quick rundown on Instagram, explain how you can use it for your business, and help you get started!


Estimated reading time: 5 minutes
Who uses Instagram?
According to Statista, nearly 68% of all Instagram users (1 billion) are between the ages of 18-34. And about 52% of all Instagram users are women. Instagram users also tend to adopt an informal style when posting; so, business accounts that do the same will ultimately enjoy greater success than those who don't (or can't, because of the nature of their business). If you own a law firm or insurance company, for instance, Instagram might not be the right fit for you.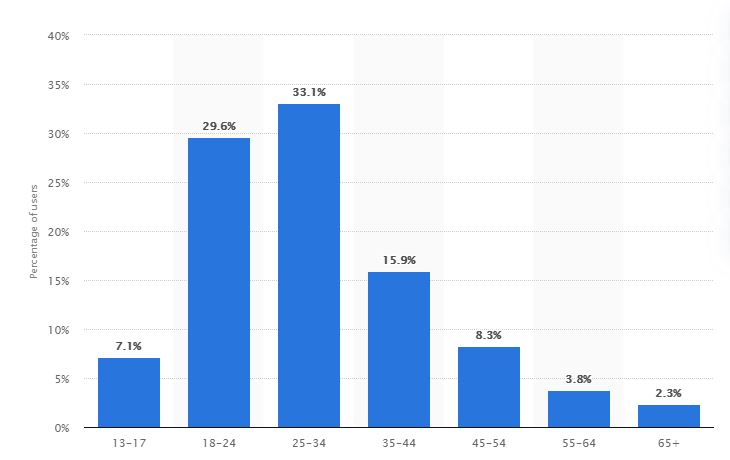 Instagram is the platform for sharing visual content. As such, it works incredibly well for businesses that sell physical products (especially anything food related). Other businesses that are a great fit for Instagram are those with photography as a core part of their business, like wedding photographers. Additionally, companies that can leverage great visual content can also do well on Instagram. For example, if you own a venue and rent it out for conferences or other community events, you might post pictures of that venue and of the events you host there.
Take some time to really think about who your audience is, and who you are as a business. Does an informal communication style fit your business? Is your ideal audience hanging out on Instagram? Do you have visual content you could share with your audience? If the answer to these questions is yes, you should sign up for Instagram!


Getting started
Setting up an account on Instagram only takes a few minutes:
Time needed: 5 minutes
How to set up an Instagram account
Download the Instagram app

You can download either from the App Store or Google Play.



Open the app and click "Sign up" to enter your information

If you want, you can log in using your Facebook account. Otherwise, fill out your information normally and create the account.

Switch to a Professional account

Click on the icon shaped like a person in the bottom right corner of your phone screen. Then click on the hamburger menu in the top right corner. Go to Settings < Account < Switch to Professional Account (near the bottom of the menu).

Add your business information to your account

Include your opening hours, company address, contact information, website, and anything else that might be useful to your customers.
It's really that simple. Once you set up your account, make sure to get the word out about it. Post on your other social media pages, like Facebook or Twitter, telling your followers that you have a new account on Instagram. You could even write a post on your website's blog and share some examples of the kind of content people will see if they follow you.


What should I post?
What you post will depend on your business goals and how much time you want to spend on Instagram. Our first tip here is to be creative. Don't just post quick pictures of your products. Instead, try to think outside the box and post content that differentiates your business and your brand. What story are you trying to tell? What problems does your customer have that you can solve with your product or service? How does their life look after using your product?
Take pictures of the desserts you sell in your bakery, while they're on the shelf, or while someone is eating them. Post images of models wearing the new clothing line you designed. You could even try to think outside the box, and post content that illustrates who you are as a brand.
The possibilities for visual content on Instagram are endless. If you need some inspiration for ideas, surf around Instagram for a while and see what other, successful accounts are doing. Can you do something similar?


A few Instagram tips
Find a balance. If you only post once a month, you won't attract any new followers. But at the same time, post too often and you risk annoying people.

Make time for it. It's easy to forget about your social media accounts when you have so many other things to worry about running your business. Schedule time in your week to devote to social media posting, so you don't neglect this key part of your online marketing strategy.

Use #hashtags. Hashtags help make your content more findable. Be careful not to use too many, as that can annoy people. Look at what hashtags other businesses are using in your industry, and start including them in your posts!

Use emoticons. They make your posts fun and light. But only do this if it matches your tone and communication style.


Read More: 7 Ways To Level Up Your Social Media Strategy »


To sum up…
Instagram can be a great social media platform for businesses that have a lot of visual content to share with the world. Take your time considering whether Instagram is right for your business. And don't expect miracles overnight. Growing your following takes time; keep posting creative content, using hashtags, and interacting with your followers. Slowly, but surely, you'll start to grow your audience.
How are you using Instagram for your small business? Share your experience in the comments below!


Keep Reading: How Social Media Can Help Your Small Business »