Google My Business (GMB) is an essential part of any small business' SEO strategy for their website. This free product not only allows you to submit and verify details about your business like your name, address, phone number, and social profiles. It also allows you to engage with reviews from customers and view data related to your listing. In this post, we'll show you how to optimize your Google My Business listing to help your website's SEO.


Estimated reading time: 6 minutes
Who is eligible for Google My Business?
Any business is eligible for a listing. The platform works best for businesses with brick and mortar locations, but service area businesses without a physical storefront can also benefit from this. If you run a service area business – like a cleaning service – just make sure you choose "No" when Google asks if you want to add a physical location to your listing. After clicking "Next", you can then select service areas that apply to your business. Google will even help you a bit and offer some suggestions.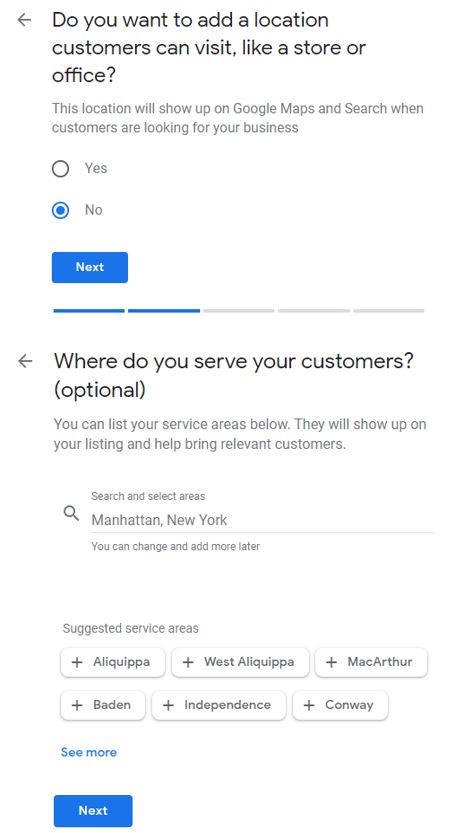 Protect your business
A lot of people wonder why claiming their GMB listing is so important. Aside from the fact that it can improve your local SEO, claiming your listing can prevent others from hijacking your business. Unfortunately, too many local businesses are seeing their Google My Business being hijacked. We strongly recommend that all local businesses make the move to claim and verify their listings to prevent third parties from sabotaging their businesses.


Verify your location
In order to complete your listing, you will need to verify your association with the business. This may seem like a pain, but Google does this to ensure that only legitimate businesses can claim a listing. To find out whether you already have a listing for your business, simply Google your business name. On the right side of the search results page, you might see a panel with information related to your business. If you do not see this panel, that means you will need to create your GMB listing from scratch.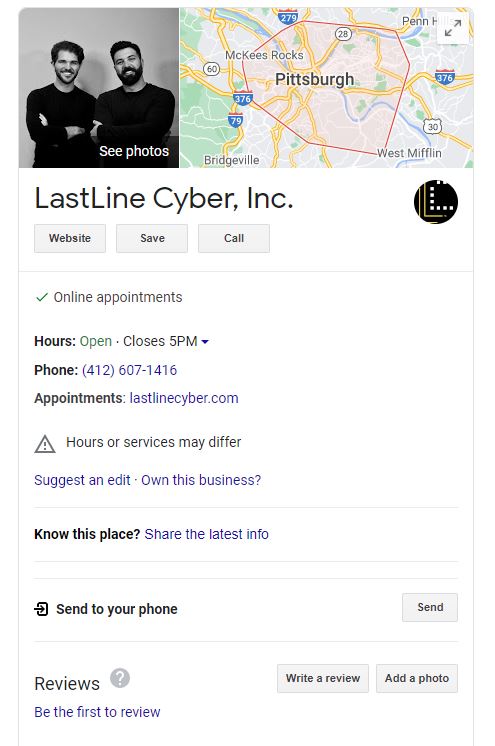 Inside that panel, you should see a link that says "Own this business?" Before you begin the verification process by clicking that link, make sure you are signed into the Google account you want to associate with your business, not your personal email account. If you don't have a Google account, Google will walk you through the steps to create one.
After filling out a few basic details about your business, Google may call your business phone number and ask you to enter a PIN on your screen. If it hasn't previously seen a business with the details you submitted, Google will mail you a postcard (usually within a week) with instructions for how to verify your business.


Fill out your NAP information
Once Google verifies your business, you can explore your listing and start completing it! This starts with filling out your basic NAP information. The important thing here is to keep everything accurate and consistent across the web. (Don't stuff keywords in your business name. Please don't.) Your NAP information should look identical, no matter where on the internet someone sees it – Facebook, GMB, your own website, or an online directory. We've seen too many businesses make this mistake. If your listings are not consistent, Google and your customers lose trust and get confused by the conflicting information. And that means less business for you.


Choose business categories
The category field is the most important attribute you can optimize on your Google My Business listing. To add categories, simply start typing, and Google will generate a list of potential matches from its taxonomy of categories. We recommend selecting as many relevant categories as you can, despite Google's advice to do the opposite. This helps Google place your business in local searches for businesses that fall into any of the categories you select.
For example, if you own an organic Asian fusion restaurant, you may want to choose categories like "Organic Restaurant," "Asian Fusion Restaurant," "Pan Asian Restaurant," and "Fusion Restaurant". Take the time to enter multiple keywords that describe your business and see which categories match.


Keep your business hours up-to-date
One of the best ways to optimize your GMB listing is by making sure your hours are accurate. Google My Business allows you to set regular business hours, as well as special hours for holidays and events throughout the year. Keeping these up-to-date helps your customers receive accurate information. You don't want them looking up your hours, only to show up on a day you're actually closed, but didn't put on your listing!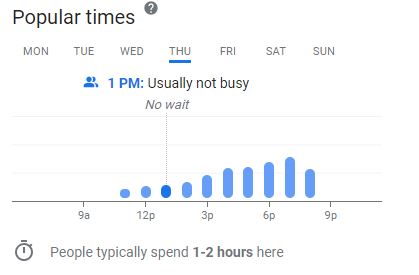 Google will use this information to tell your customers if and when your store is open. It will also sometimes show the "busyness" of your business in real-time, using location-tracking data from your customers.


Add some awesome images
The next step to optimizing your listing on Google My Business is to add great photos of your business. Customers usually judge businesses by the appeal, quality, and professionalism of their images. Google My Business has its own image format requirements, so make sure the images you choose fit their requirements for best results. Include lots of different images – of your storefront, your lobby or seating areas, and your staff.


Add a menu URL
If your business falls into any of the food service categories – like cafes, coffee shops, bars, and restaurants – you usually have the option to add a link to a menu. We highly recommend doing this, as it gives Google more relevant keywords for your business.


What you can't control
Unfortunately, there are some things you can't control when it comes to your rankings in location based searches. One of the most significant is that you cannot control the location from which your customer is performing his search. All other things being equal, Google displays businesses closer to the searcher than ones farther away from him.


Use Google My Business Insights
Inside your GMB listing, you'll have access to their Insights package. These analytics will show you how many times your listing is appearing in organic search results and in Google Maps, along with clicks to your site, phone calls, and requests for directions to your store. It also gives you a limited idea of which words led people to finding your listing.
The only downside to this Insights interface is that there's no ability to track your growth over time. Hopefully this changes in the future. But for the time being, we (and our clients) find plenty of value in the data that we gather from Google Analytics and Google Search Console.


Now go and optimize your listing!
You're now ready to set up, verify, and optimize your listing on Google My Business! Remember to be truthful and accurate when filling out your information, and keep it up-to-date. Moreover, take the time to make sure you optimize your business categories and links, and to add great photos to your listing.


Read More: The Secret To Effective Marketing In 2021 »