Over the last several years, Google and other search engines have seen incredible growth in the number of "near me" and other local intent searches. That means being found for these local searches is becoming more and more important if you expect to have the advantage over your competitors. Foursquare City Guide, aka Foursquare, is a great local search-and-discovery app that you can leverage to make your small business findable. Let's dig into how to use this network and claim your Foursquare business listing.


Estimated reading time: 5 minutes
What is Foursquare?
Foursquare is an app that gives you personalized recommendations of places to go. These recommendations are based on your current location, along with your browsing history and check-in history on the app. You can also access the search from a desktop (click that link in the introduction to check it out). You can specify what it is you're looking for, whether it's nearby clothing stores or breakfast cafes. And the app will return relevant results for you!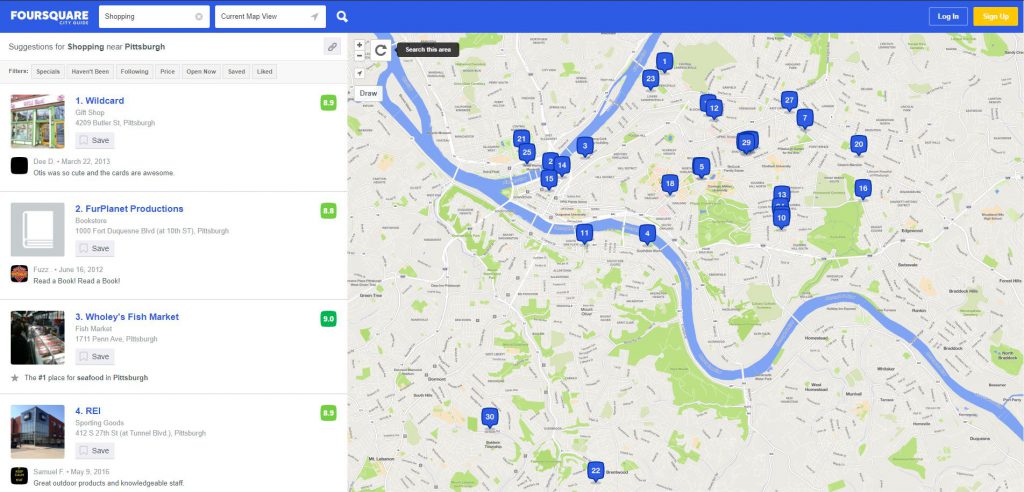 Clicking on a result brings up that business' listing on Foursquare, which contains rating, tips from other users, NAP details, and photos. You can even find their social media profiles and check out other similar businesses.


Who uses Foursquare?
More than 55 million people use Foursquare every month, with 60% of check-ins occurring in the United States. Here are a few demographics to give you an idea about who uses this app:
40% of Foursquare users are between the ages of 18 and 29
49% of users make less than $50K annually
80% of users have acted on tips from other Foursquare users
Men are more likely to use Foursquare than women
59% of users search for local businesses at least once a week


While Foursquare isn't one of the more popular listing sites (like Google, Yelp, or TripAdvisor), its local search component makes it worth at least taking the time to claim your business' profile.


Key features
Foursquare comes with a couple really cool features you can tap into to make your business stand out in local searches in the app:
Location detection. The app uses location services to track the user's location and send push notifications for local venues and locations of interest.
Tips and Ratings. Users can write short reviews and earn "expertise" in a particular location or category. Additionally, they can rate venues by answering questions about a place, like its popularity, cleanliness, and noise level.
Local search and recommendations. Users can search for restaurants, cafes, shops, entertainment venues, and more. Depending on the time of day, a user's check-in history, their tastes and their venue ratings, the results may change.


Using Foursquare to promote your local business
Anyone with a brick and mortar location for business can benefit from Foursquare. Restaurant and shop owners in particular can really reap the rewards here, if they optimize their listing the right way.


1. Add accurate information
To optimize your Foursquare listing, you first need to add as much accurate information as you can about your business. Include your business name and location, your opening hours, any useful contact information, and your active social media profiles. Remember to keep your info up-to-date. If you've moved, changed phone numbers, or adjusted your hours, you want your customers to know that.


2. Use relevant keywords
In addition to this, make sure you use the right keywords in your description. This helps people find you when they search in the app. For example, if you own a cafe that sells sandwiches and pastries, you should make sure to add "sandwich shop" and "pastry bar" to your description. That way, when a user searches for sandwich shops in your town, your cafe will pop up in their results. Whatever you add, make sure they are the words your audience is using!


3. Advertise
Foursquare offers many promotional options for small businesses with limited budgets. This can be a cost-effective way for you to reach more potential customers.


4. Read reviews and share tips
Make sure you take the time to read any reviews users leave on your listing. What things are you doing right that customers love? Where might you have room to make improvements?
Keep Reading: Where And How To Get Reviews For Your Business »
You can also share your own tips on your listing. For example, you could highlight a new sale you have going on, or you could tell everyone about your specialty cupcakes. Tell customers things that make you stand out, to make them want to stop by.


5. Create specials
Foursquare allows businesses to create specials that encourage patrons to check-in at your business. You can offer them rewards, like a free dessert or a BOGO offer. Given that check-ins let your customer's friends know where they are, you want them checking in at your business! The more people who check in, the more visibility your business will get!


Conclusion
Foursquare may be a great opportunity for your business. Think about your audience and your niche, and whether or not you think you could benefit from claiming and optimizing a listing there. Do you already use Foursquare for your business? Share your experience with us in the comments!