The more sophisticated social media platforms like Facebook become, the easier it is for businesses to engage with customers, manage sales, and track analytics. It's becoming so easy that some people wonder if they need to have a website at all. Facebook and Instagram seem to know what's up, so why not let them take care of everything? In this post, we explain why every small business needs to have their own website, not just a Facebook (or Instagram) page.


Estimated reading time: 7 minutes
Introducing Facebook Business Suite
In September 2020, Facebook officially rolled out their Business Suite (FBS), an app/desktop interface that streamlines Facebook and Instagram content posting, messaging, ads, and analytics in one location. Essentially, they've made FBS the everything-you-need eCommerce solution for your small business. This transition undoubtedly makes it simpler, easier, and cheaper for small businesses to manage things. And with COVID-19 shaking a lot of local businesses to the core, it's no surprise how enticing FBS is.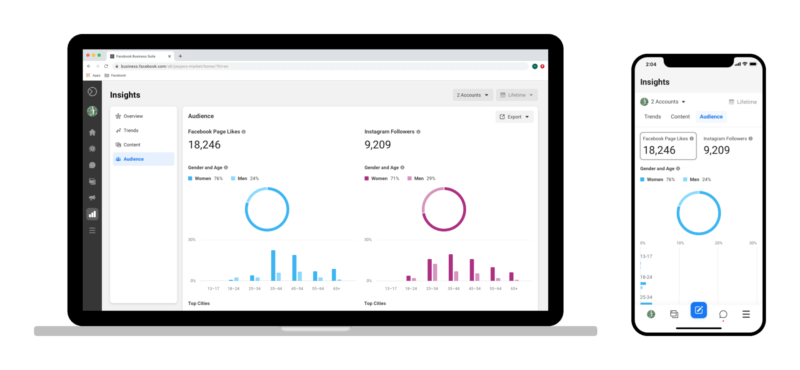 But are the ease, simplicity, and savings worth it? Are they worth everything you'd be giving up by going with Facebook instead of having your own website?


The difference between websites and social media
One common mistake people make when trying to decide where their business should live online is not understanding the difference between websites and Facebook pages. The two have very unique purposes. Using one to accomplish the goal of the other most likely won't get you anywhere. The difference is simple:
Social media channels like Facebook allow people to connect and network, while websites profile a business, brand, or product.
Your website is the epicenter of all your online activity. It contains all the roads to the different channels customers can use to find you. Both your website and social media have their purpose, and both can be beneficial for your business if you use them correctly. However, having your own website is a must for any small business.
Read More: How Social Media Can Help Your Small Business »


Advantages to having your own website
1. Complete ownership
When you build a website (or hire someone like us to do that for you), you have complete ownership. Think about it this way. With your own website, you're the homeowner. You can paint the walls any color you like, remodel the basement into a new bedroom, and chop down the tree that keeps blocking your view of the lake. Because you own the site, you can control the look, feel, and experience. On platforms like Facebook, though, you're simply leasing space. If you hope to keep that space, you have to play by the landlord's rules.
As a website owner, you also have full control over your content, but any content you post on a Facebook business page must follow that platform's guidelines. Moreover, any content you post on Facebook can be used at their discretion until/unless you delete it. Basically, that means the content isn't really yours.


2. Credibility
Another important benefit your own website brings is credibility. Not having a website these days makes you look unprofessional. Moreover, it gives the impression that you aren't as good as the competition. People search for products and services through social media. If they see one of your products, or stumble across your page, they will probably go to Google and search for your website, so they can order directly from you. When they don't find a website, their interest in your product plummets. And to add insult to injury, you lose their business to competitors that do have websites.


3. Extended reach
The beauty of the internet lies in its ability to connect you with companies, products, and services you might never have found otherwise. The majority of online encounters start with a search – Google handles approximately 3.8 million searches per minute! That's a lot of potential searches where your site could show in the search results and get clicks!
Find out what words and phrases you want to be found for, and which words your audience is using to find businesses like yours. Then, create awesome content around those keywords – content your visitors need – so they can find your website when they search on Google. 
While Facebook allows you to target specific audiences with their fancy advertising algorithms, it comes at a price. Even if you do pay that price, the return on investment (ROI) may not be worth it in terms of actual leads it generates for your business, especially if you own a B2B company. And all of this assumes your customers are even on Facebook to begin with.


4. Less competition
This might sound counterintuitive, since your website competes with millions of others on the web. But there are millions of business pages on Facebook as well. Competition there is incredibly fierce pretty much all the time, because people's attention is divided between your business and the 1,500+ other pages they like and follow every day. The more pages there are that take a slice out of the news feed pie, the smaller those slices become. In other words, the more pages a user "likes", the less likely they are to notice your posts.
Even if you sponsor your post, there is no guarantee people will spare it a second glance, let alone interact with it in any way. Why? Because Facebook is recreational for a lot of people; it's a pastime. More often than not, Facebook users ignore ads altogether, because they get enough of that everywhere else they go!
On your website, however, you have the customer's undivided attention. If you invest in proper keyword research and a solid SEO strategy, at least this way you're showing up in the search results for customers who actually want to buy your product. With optimized organic results, you can stand out from the competition and entice visitors to click the link to your website.


5. Email marketing
Lastly, when you have your own website, you can collect emails and execute great marketing campaigns. Email still provides the highest ROI for modern marketers. Once you get someone's email, you can deliver the perfect message at the perfect time. And unfortunately, social media platforms like Facebook don't provide any effective means for creating and measuring sales funnels.
Let's say you own a lawn care service. While customers who submit an email might not buy from you right away, they'll see your brand pop into their inbox every now and then. That will keep your brand on their minds. And then, next summer when they see how dingy their lawn looks, they'll think of you first before your competitors. If all you had was a Facebook page, chances are you would have been forgotten, if you had been found at all to begin with.
Keep Reading: 7 Tips For Creating Effective Lead Generators »


Why every small business needs a website
At MotorClick, we firmly believe in the power of websites to help ensure long-term success and growth for small businesses. While social media can be a great tool to expand your reach online, nothing can compete with the level of control and flexibility you'll get from your own website. So use those social networks to your advantage. From your website, you can coordinate a content marketing strategy, getting the right content to the right audience at the right time.
When used in combination with a website, a Facebook Business page or Instagram profile can be a great tool to help you get the word out about your products and services. But if you depend solely on social media platforms like Facebook to house your business, you put yourself at a terrible disadvantage. Not only do you have limited control over updates, security, branding, and content; but you also lose out on a significant percentage of potential customers.


Read On: 7 Things You Should Put On Your Website's Contact Page »