In the world of social media, tags have become quite popular. Particularly on Twitter and Instagram, where we can add countless tags to our posts to help people find them. Too many WordPress site owners make the mistake of thinking that tags on their website should be used in the same way. But tags in WordPress aren't the same as tags on social media. Using them on your website the way you would use them on Instagram will sabotage your rankings in the search engines and undermine your SEO. So, how do you use tags on your WordPress site the right way?
Estimated reading time: 7 minutes
Already made this mistake and misused your WordPress tags? Skip to the end of this post for some tips on how to fix this problem!
What happens when you create a tag in WordPress?
Out of the box, WordPress comes with two taxonomies you can use to group your content. They are called categories and tags. There are quite a few differences between these two taxonomies, but they share a common purpose: to help your visitors find the content they are looking for.
In the post editor of WordPress, you can add tags to your post by clicking the cog icon in the upper right of the editor screen. This will pull up the Settings menu, from which you can see several smaller dropdown sections. Open up the Tags section, and simply type in the tag you want to create and press Enter. If you already created a tag and want to add it to another post, start typing. WordPress will generate suggestions as you type, and you can tag your post with whatever tag you want from that list.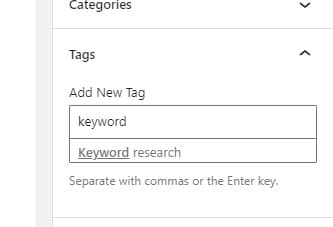 You can also create tags from your WordPress dashboard via the Posts < Tags menu item: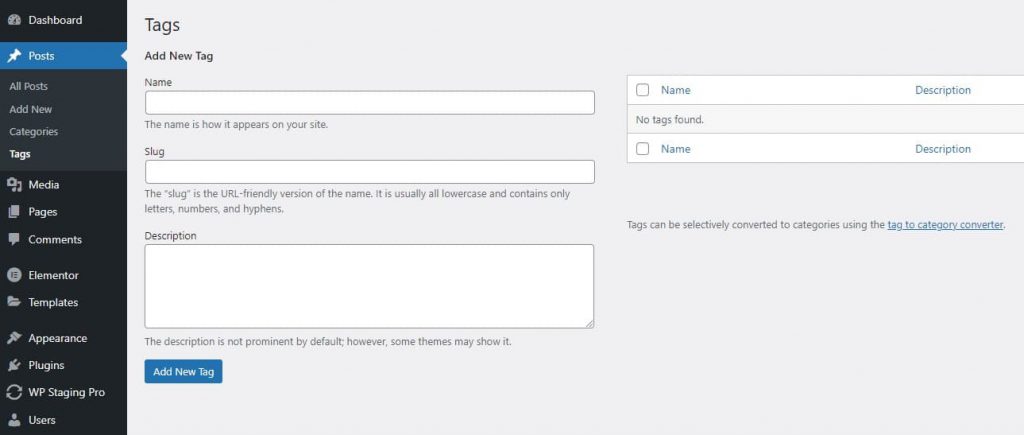 Whenever you create a new tag, WordPress automatically creates an archive page for that tag. All posts with that tag assigned to them will then show up on that archive page.
Adding a tag to a post
When you add a tag to a post, that post is added to that tag's archive. For example, let's say you have a cooking blog, and you have a tag page for [cast iron skillets]. When you add that tag to a new blog post about the best desserts you can cook in a cast iron skillet, your new post (once published) will show up in that tag's archive.
This can be quite useful: visitors interested in reading more about cast iron skillets can go to that archive and find all your posts on that specific topic. Not only that, but Google also will understand that all the posts in this archive belong together, which helps Google understand your overall site structure.
Moreover, you can use tags to help you find related content to link to in your articles. This will help solidify the structure for your site and your content, to make it easier for Google and your visitors to connect the dots and understand how everything you've posted on your blog fits together.
How to use tags properly
Generally speaking, you should only create a tag when you can add at least 3 posts to that tag's archive. Remember, every tag created means a new archive page exists out there on your website. If you create a tag, but only use it once or twice, that archive page becomes useless, because it doesn't help your visitor find other related posts or articles. You essentially create a pointless page with very little content (aka thin content), something Google really doesn't like.
To use tags properly:
Limit tags to 3 or 4 per blog post
Only create a new tag when you can add at least 3 posts to its archive
Only use tags that relate the current post to other posts on your site
Keep your tag archives relatively small (between 10-20 posts per archive)
Choosing your tags
How do you know which tags to create or choose? Think about the overarching themes you see in your blog posts. For instance, a florist might write a lot about flower gardening, building floral arrangements, and best flower color combinations. These could make great tags, because they can span across her seasonal categories of Winter, Spring, Summer, and Autumn.
When choosing tags, ask yourself which other posts on your blog relate to the post you are currently writing. Can you think of a tag that could apply to that group of posts? And perhaps most importantly, is that a strong keyword or phrase people would actually search for online?
Do not just make up tags; they should be existing words or phrases that people search for online. To help find lucrative words you can use to optimize your category and tag pages, we recommend conducting thorough keyword research. When doing your research, choosing words to optimize as categories and tags is a valid, important choice to make when assigning words to posts and pages. There are lots of tools available, both free and paid, to help you with every part of the research process.
Audit your tags regularly
Just like everything else on your website, your site structure requires regular maintenance. That means going through your categories and tags at least a couple times a year. Remove redundant ones, and adjust any that might need updating. Sometimes the focus of your business might shift, and the topics you write about change. So keeping an eye on your taxonomies can help keep things organized and easy to find, especially during those transitional periods for your business.
What happens to your rankings if you add too many tags?
As we mentioned earlier, every tag you create leads to the creation of another archive page Google's bot/spider needs to crawl through. This not only makes Google bot take longer to get through your site, but it also leads to thin content. If you have more tags than you have blog posts, you have more bad and thin content than you have high-quality, rank-worthy content.
Google wants to see valuable content, not empty pages with only a couple links. Therefore, sites with too many tags (used incorrectly) don't rank well in the search results. If you're not using WordPress tags correctly, your rankings will drop.
What to do if you've added too many tags
If you added far too many tags to your WordPress site, don't worry! You can fix this problem. From your WordPress Dashboard, you can access your list of tags from Posts < Tags. First, take a look at the number of posts in each tag. If you notice tags on that list with fewer than 3 posts, delete and redirect those tag pages to something useful. Another related tag, for instance, or to a specific blog post.
To delete a tag, simply hover over it and click "Delete". To redirect it, you will need to install a plugin, like Redirection, to help you. Some plugins, like Yoast SEO Premium, come with a redirect feature, so check to see if any of your current plugins come with that feature first before installing another plugin!
Once you've deleted tags with nothing in them, look at how many tags are left. If you have a decent amount and they all contain valuable content, you're done. However, if you notice tags that are too similar, you should consider combining them into one tag. To do that, simply delete the tag with the least amount of posts in it, and reassign those posts to the other tag you decided to keep.
This will help greatly reduce the number of archive pages on your site and keep your content organized for both Google and your visitors.
Conclusion
When planning out your blog content, think carefully about the tags you will use. Don't just add them as an afterthought, willy-nilly, because they are important to both your visitors and to Google! Tags and categories can help create structure for your site, allowing people to easily find posts that interest them. When you use tags the wrong way, you make your site confusing and hard for people to navigate. And you also hurt your rankings in the search results. But all is not lost! If you've made this mistake, you can fix it! And while it may take a bit of an investment to get a handle on, it'll be well worth your time.
Good luck tagging!
Keep Reading: Why Every Small Business Should Start A Blog