Starting and maintaining a blog is probably one of the best ways you can help your website's SEO. But how do you make sure the blog posts you write are optimized for the search engines? What steps should you take to help get your post in that top spot on Google?


Estimated reading time: 6 minutes
Research your keywords
For any post you want to rank in the search results, you'll want to choose the right focus keywords for your text. Optimizing for the right keywords gives you a higher chance of ranking in the search results and bringing traffic to your site. So first, you'll need to ask yourself who your audience is. Then, find out what words they use when they're looking for the information, product, or service you're writing about. Take some time to really get into the heads of your audience here. You can use a number of free (and paid) keyword research tools to help you with this step.
Keep Reading: 6 Mistakes To Avoid When Doing Keyword Research


Plan out your post
Once you choose your keywords, the next step is to start planning out what you want to say. Some people like to just sit down and start writing right away. But taking the time to prepare your piece helps your readability and your SEO. Not only that, it can save you lots of time editing and polishing later!
Think before you write. Try to answer these questions while planning out your text:
Who is this article for?
Is the goal of your text to inform or persuade?
How are you going to structure your text?


By defining your audience and the purpose of your post, you can more easily decide your approach to the topic and the language you will use while writing. And a good structure helps your readers better understand the main message of your post; it also helps the search engines, so make sure to take some time on this step!
To plan your post structure, start with a list of the topics you want to cover in the article. Then, group the topics that go together. Organize these groups in a particular order – chronologically, didactically, or thematically. Which order you choose will depend on the topic of your post. If you need help coming up with some ideas here, check out the search results. Look and see how other people approached this topic. (But don't copy their content!)
Read More: How Long Should My Blog Posts Be?


Write your first draft
This step can be one of the easiest, but also one of the hardest. During this step, don't worry about typos or other mistakes. The point of the first draft is to just get all your ideas down on paper. You can always fix mistakes later and reorganize your text if it doesn't flow the way you envisioned.
Also, if you find yourself getting stuck on a particular paragraph or section, skip over it and move to the next one. It's okay to write things slightly out of order!
Keep Reading: How To Write A Blog Post
Edit for readability
Once that first draft is written, it's time to start the editing process. In order to optimize your blog post for SEO, you first have to make your text readable for both your visitors and for the search engines. This means:
Using active voice instead of passive voice
Keeping most of your sentences shorter than 20 words
Using subheadings to divide your text into sections
Using transition words to connect ideas together
Keeping your paragraphs under 150 words


Take some time to read through your post and make these edits. Then reread and do it again, in case you missed anything the first time.


Optimize for your keyword
After editing for readability, you'll want to go back to the beginning of your post and start optimizing your text for your chosen keyword. There are many different things you need to take into account when making your text SEO-friendly. First, make sure you use your keyword in the introduction of your blog post, so the search engine and your audience knows what your post is about. You also need to use your keyword throughout your article and in your subheadings, but overdo it! Using your keyword everywhere makes your text clunky, unnatural, and more difficult to read, which negatively impacts your SEO. Instead, try to include synonyms of your keyword, or other related keywords that people might search for that connect to the topic of your post.


Optimize your images
Another part of making your blog post attractive to search engines is optimizing some images. Find images that are relevant to your topic that explain or illustrate concepts, and make sure you optimize them for your keyword as well.


Optimize your meta description
With the use of certain plugins, like Yoast SEO, you can also optimize your meta description. The meta description is the part of the search result that gives visitors an idea of what is on your page. To help your post rank in the search engines, you should include your keyword in this description, much like Yoast and Moz did here. Also, make sure you keep your description brief, but relevant. You only have so many characters to use!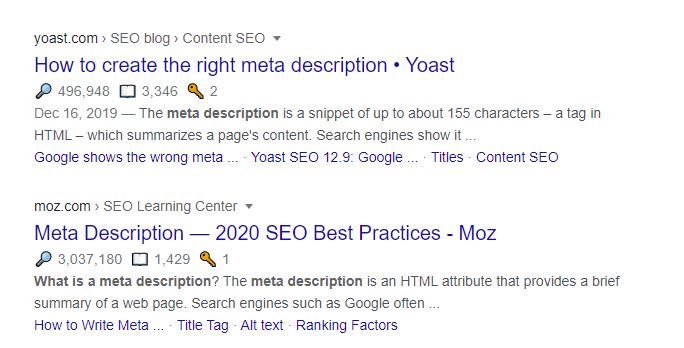 The tricky part about meta descriptions is that while you can change the text for the description, this does not guarantee that Google will display the text you have chosen. If Google believes a different description might help the searcher, it will pull a different part of your post and use that instead. Overall though, setting this text is better than not setting it, and letting Google guess on its own!


Get your post ready for social sharing
Social platforms like Facebook, Twitter, and Pinterest are great for sharing blog posts, which is basically free marketing for your website. They get your content out there in front of more potential customers and can drive traffic to your website. While there, visitors might read other articles you've written or check out some of your products or services. And if they like what they see, they are more likely to purchase something or contact you.
To get your post ready for sharing on Facebook or Twitter, you will need a short blurb or description for your post. Take some time to write something that will really entice your audience and get them to click that link to your website. Moreover, find a great image to use for your post. Posts with images get clicked far more often than those without.
---
Automated social publishing
Not everyone has time to always be on social media, especially when you're posting blogs multiple times a week. Companies like Zapier and Hootsuite help you automate this process to make it less of a burden on you and your team. There are many solutions available out there that will fit any budget.


Publish your post
This is the final step! Now you can finally publish your post and send it out into the world!

Optimize away!
You now know how to optimize your blog posts for search engines. First, take some time to research our keywords. Then, structure and plan out your post. Next, write your first draft, and then when it's finished, start to optimize your text for readability and SEO. Before you publish, don't forget to optimize your images and meta description, and remember to prepare your posts for social sharing.
Good luck and happy writing!


Keep Reading: Optimizing Your Website's Homepage For SEO