As you continue to grow your blog, there will be times when inspiration seems to flow like a river. Idea after idea will come to you with very little effort, and you'll rack up so many great ideas for your articles. But there will also be times when you find yourself blocked, your inspiration well running dry. You stare at your screen, willing the words to come, but nothing happens. You have no idea what to write about. Luckily, there are many ways to find ideas for your blog posts, so you can continue publishing regularly and improve your site's SEO.
Estimated reading time: 6 minutes
Finding new blog post ideas on your own website
When you're fresh out of inspiration, it can be tough to even think about where to look for ideas for your blog. The first place you should always go for that inspiration is to your website itself. It can be a treasure trove of ideas, if you know where to go to find them.
Read More: Why Every Small Business Should Start A Blog
1. Blog comments
If you allow comments on your blog posts (which we highly recommend), you should review those comment sections and respond to some of them. Sometimes, commenters just leave positive or negative feedback. But others may ask new questions or introduce an angle on the topic you hadn't considered before. Comments like these can be great inspiration for new posts; go through your comments periodically and keep a running list of questions you can turn to when you find yourself suffering from writer's block.
2. Google Search Console
Google Search Console is great analytics tool that can help tremendously with keyword research. Its Performance report can also be a wealth of information when it comes to finding inspiration for new topics to write about. In the Performance report, you can see a list of all the search queries people use on Google that your site ranks for – whether you've actively optimized for them or not. More often than not, you'll end up ranking for queries you hadn't even thought of writing about when you did your initial keyword research.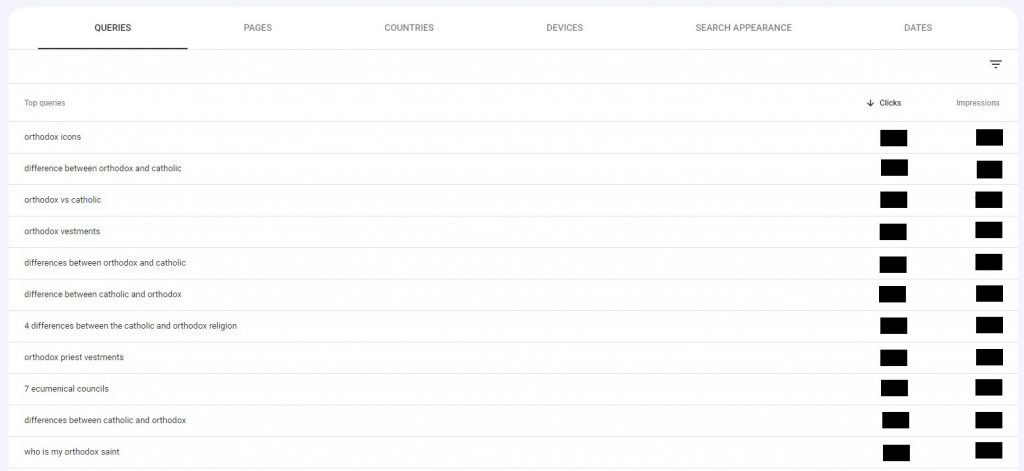 3. Your keyword list
Every effective SEO strategy requires solid keyword research. If you've already worked through this process, you should have an extensive list of words and phrases you want your site to rank for.
While a keyword isn't necessarily a topic for a blog post, it can be a great foundation for discovering one. Take one of your long-tail keywords and hit the search results. See what pops up when you search for that phrase and what types of pages already exist out there. These results can inspire you to go above and beyond what is already ranking.
Other places to look for blog post inspiration
4. Discussion forums
Online discussion forum sites can be a great place to find ideas for new blog posts. Reddit is probably one of the best, since people ask questions about various topics in several different industries. Search for your niche on those forums and see what questions people are asking that may not have an adequate answer. Can you write a killer blog post that answers the question?
5. Other blogs in your field
Take a look at your competition. What are they blogging about? Read through some of their posts to see what inspiration you can find. Do not copy them! Just draw from them; approach the topic from a different angle, offer your own unique perspective.
In addition to blogs in your industry, it may be worth it to check out Facebook groups related to your niche. The posts in those groups might help inspire you.
6. Current Events
Another way to come up with ideas for articles is by looking at current events relevant to your industry. For example, you can offer your professional opinion/insight into a particular development in your field. Make sure to stay up-to-date on the news, so you don't miss out on these opportunities!
7. Personal Experience
Perhaps one of the greatest ways to find inspiration for ideas on your small business blog is to draw from your own work experience. Think about situations you've encountered with customers and how you helped solve their problems. Chances are other people have faced the same problem and are searching for a solution to that problem; if you optimize your blog post properly, you could attract future customers!
Keep Reading: What To Write About On An ECommerce Blog
If you do choose to write about real customers, always respect the privacy of others and ask their permission to use their case study for your blog. Additionally, offer to change names and situational details to further protect their privacy, and let them know you appreciate their willingness to help you help others.
8. Days Of The Year
Days Of The Year is a great source of inspirational site that writes about all the "holidays" across the globe. From National Spaghetti Day (January 4) to Make A Hat Day (September 15), there are thousands of ideas here that you can use to reach out to your audience.
If you run a bakery, for example, you could make a list of all the baking-related holidays throughout the year, so you can write posts about them. For National Pastry Day (December 9), you could publish something like '10 Delicious Pastries To Serve At Your Christmas Party This Year'. You could likewise write about cupcake decorating tips for National Cupcake Day (June 14) or different ways to use French bread in recipes for National French Bread Day (March 21).
Have fun with this and think outside the box. See what creative blog post ideas you can come up with!
9. Content Idea Generators
If none of these other methods of finding inspiration have worked for you, try looking up a content idea generator and plugging in some keywords relevant to your business. While these generators won't give you blog topics off the bat, they can help to stir creativity.
Some helpful tips when searching for inspiration
Change your surroundings every so often. Go for a walk outside, for instance. Or go to a different room in your home to do some brainstorming. The change in environment can help stimulate your imagination and inspire new ideas.


Take time to relax. Sometimes work can get us so wound up that we can't focus productively. If this happens, do what works best for you – prayer, knitting, a brief workout, playing with your cat – and think about something else for a while. Then come back to your work refreshed and let the ideas flow.


Make a list of your ideas and keep them accessible. Not all of us are "list people", but keeping a list of ideas for your blog posts is essential. You can make the list on paper, on your mobile phone, or on your work device. Just so long as you have one. That way, on the days when you feel stuck, you can simply choose an idea from the list you already created.
Get inspired!
There are thousands of ideas out there just waiting for you to discover them and use them for your blog posts. Whenever you feel your inspiration running dry, try some of the things we mentioned in this article. Go ahead and get started, and let us know which methods of getting inspired worked best for you!